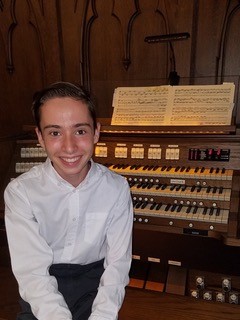 The CFAGO Chapter is pleased to introduce the 2021 recipient of the Benjamin T. Lane Scholarship of Excellence.
Jones Hogsed has already studied organ with Dr. Terry Yount for three years. He is completing his freshman year in school and is from Chuluota, Florida. Jones says he is interested in creating a career in music at the organ.
The Central Florida Chapter of the American Guild of Organists has a strong commitment to the future of organ performance and in the young people who are developing skills. The Benjamin T. Lane Scholarship of Excellence was created to support students and honor the memory of Ben Lane.
Since the start of the scholarship program in 2012, the Chapter has awarded twenty-six organ study scholarship to young people in our area. Several of those recipients have gone on to additional study at universities, in both undergraduate and graduate programs and continue with careers in organ. As Scholarship winners, each of them had the opportunity to study organ with professional mentors from our Chapter.
The program is designed to help students in grades 9 through 12 work with one of the organ teachers in our Chapter for up to two years. Some recipients have chosen to use their award to attend a regional Pipe Organ Encounter, which are organized each summer by the American Guild of Organists across the country.