Registration and Online Payment
Learn about registration, lesson fees, and other frequently asked questions about Conservatory music lessons. Fees can be paid by cash or check in the office, or by clicking the link below.
Fall lessons are in session. We are still accepting registrations for Fall until August 24.
Conservatory Policy
Read our Student Handbook for information regarding Conservatory policies and standards.
Organ Scholarship Initiative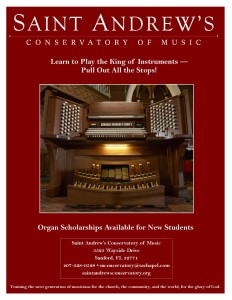 Certificate in Church Music Program
Saint Andrew's Conservatory offers a Church Music Certificate for students and adults, which provides training through private study, skill development, practical management of church music ensembles and programs, and ensemble participation.